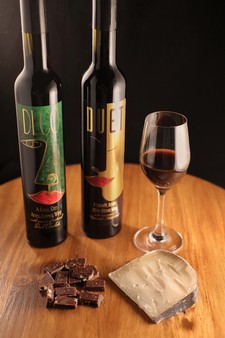 Celebrate Mother's Day with 2 of our most popular dessert wines!
This set includes 1 bottle each of:
DECO After Dinner Wine with essences of natural dark chocolate - Dark chocolate delights your senses. Cherry, blueberry, and espresso on the finish complement this wine's signature rich chocolate flavor
DUET After Dinner Wine with hints of hazelnut - With a glowing, amber tone, this wine fills your nose with aromas of toasted hazelnut and a whisper of marzipan. A bit of vanilla on the finish is the perfect ending to this classic after dinner wine
Shipping to Mom? Be sure to enter coupon code MOM at checkout to receive $15.00 flat rate shipping. Order by May 4th!
Local? Stop in to pickup your Mother's Day set. We are open from Noon-5pm Thursday - Monday.