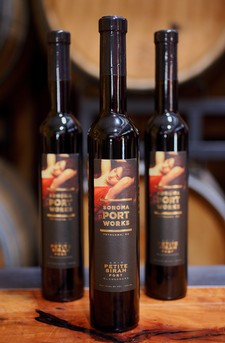 Sonoma Portworks is proud to release three consecutive ARIS Petite Sirah vintages in a vertical offering. We think you'll be impressed.
Each vintage was aged 5-6 years in oak barrels in our Petaluma cellar and developed delicious aromas and character. Experience these ports as they have continued to age and mature in the bottle.
Petite Sirah shines as an ideal port grape that comes through consistently vintage after vintage. Taste and compare our 2013, 2014 and 2015 vintages side by side. Explore how ports produced with the same grape varietal from the same vineyards, in different years with unique growing conditions, have both similarities and differences.
Profile of each vintage:
2013 Vintage: Rich maroon in the glass, hints of raspberry, dried cherry and apricot and a bit of leather with a luscious finish. Bottled October 2018 - library wine $48 retail
2014 Vintage: Mahagony in color, dark cherry with a tease of cola, a bright, smooth finish. Bottled January 2020 - library wine $44 retail
2015 Vintage: Full bodied and smooth with flavors of dark cherry, plum, strawberry and cola leading to a rich, lingering finish with hints of nutmeg and cranberry. Bottled February 2021 - current release $38
Join our club for an even better price! Join Now